How do I navigate the main page?
NEED TO ADD ALL THE LINKS!
What is viewable on your app automatically adjusts based on the Access Rights, type of devices, and the way your Pelican devices were organized. Below is a representation of a common Pelican App's Main Screen: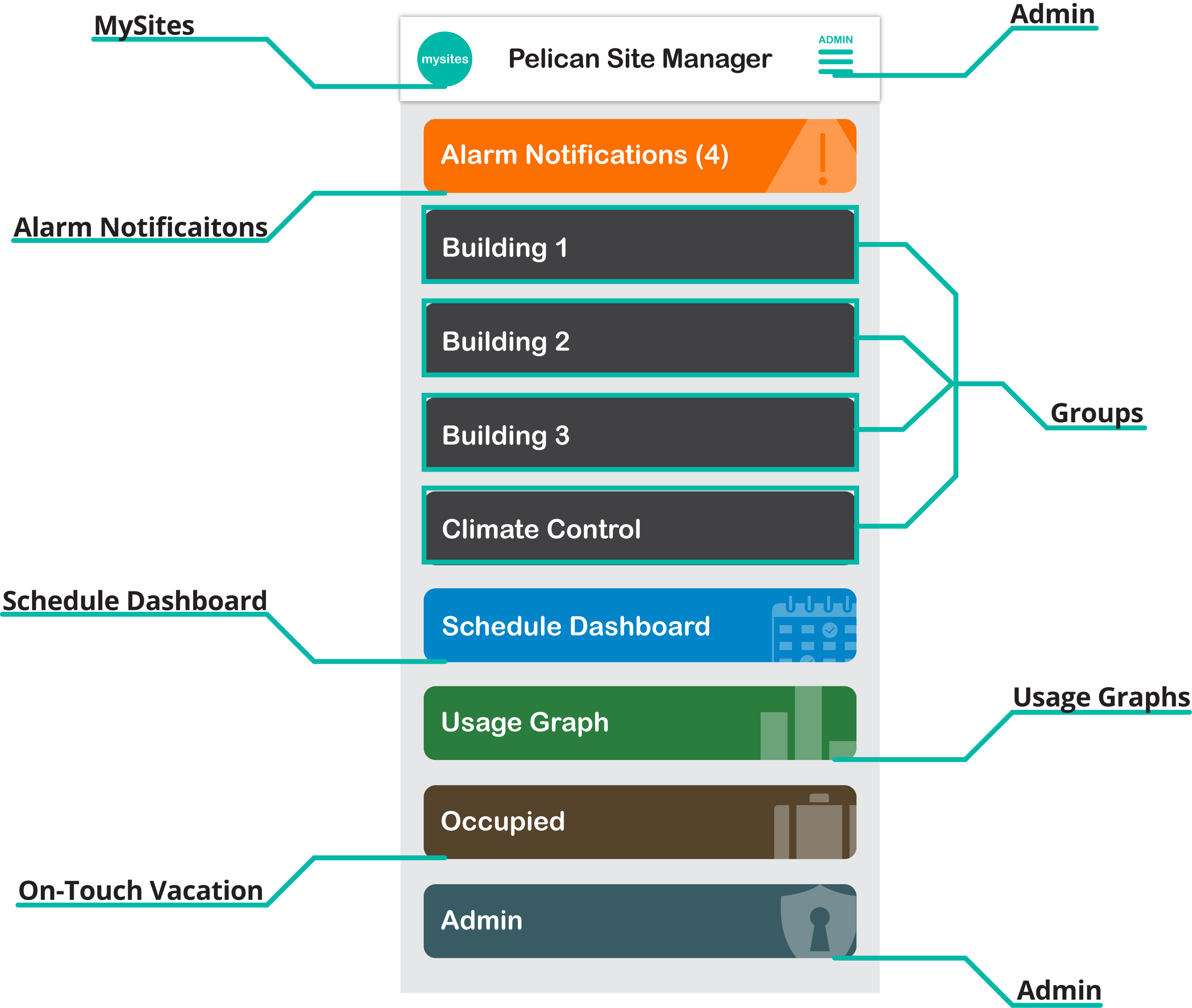 Rooms are grouped in your Pelican app to help you quickly navigate through a building or a multi-building campus. Rooms will be grouped by floor, tenant names, building names, or similar and the default group is Climate Control. Groups are displayed as dark gray buttons on the Main Page of the app.
To view individual room/thermostat statuses, select one of the groups.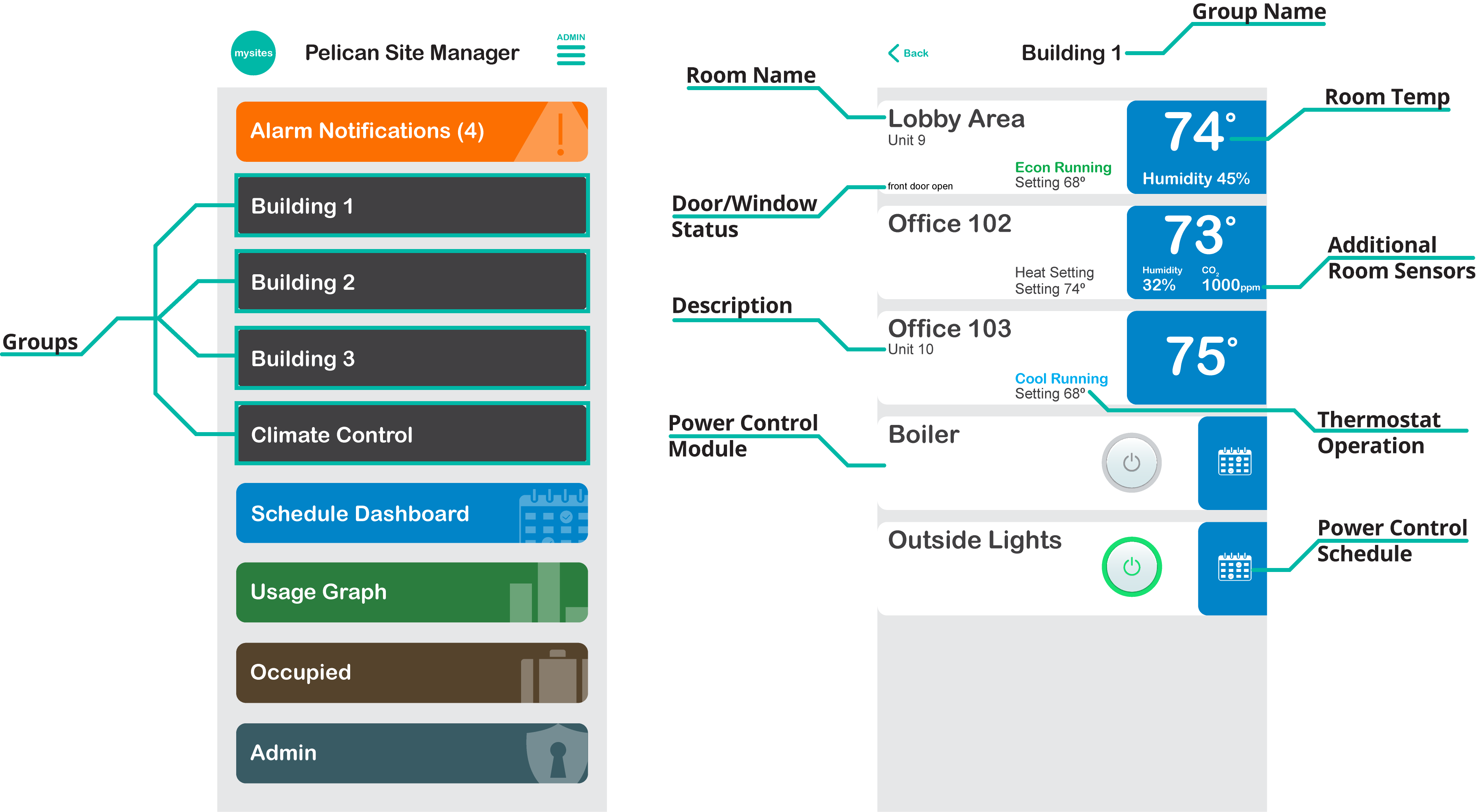 All the different room information on a group page:
The Schedule Dashboard provides a convenient area to manage all normal schedules and special event schedules for all your thermostats. The dashboard is accessed by selecting the blue button labeled Schedule Dashboard on the Main Page of your app.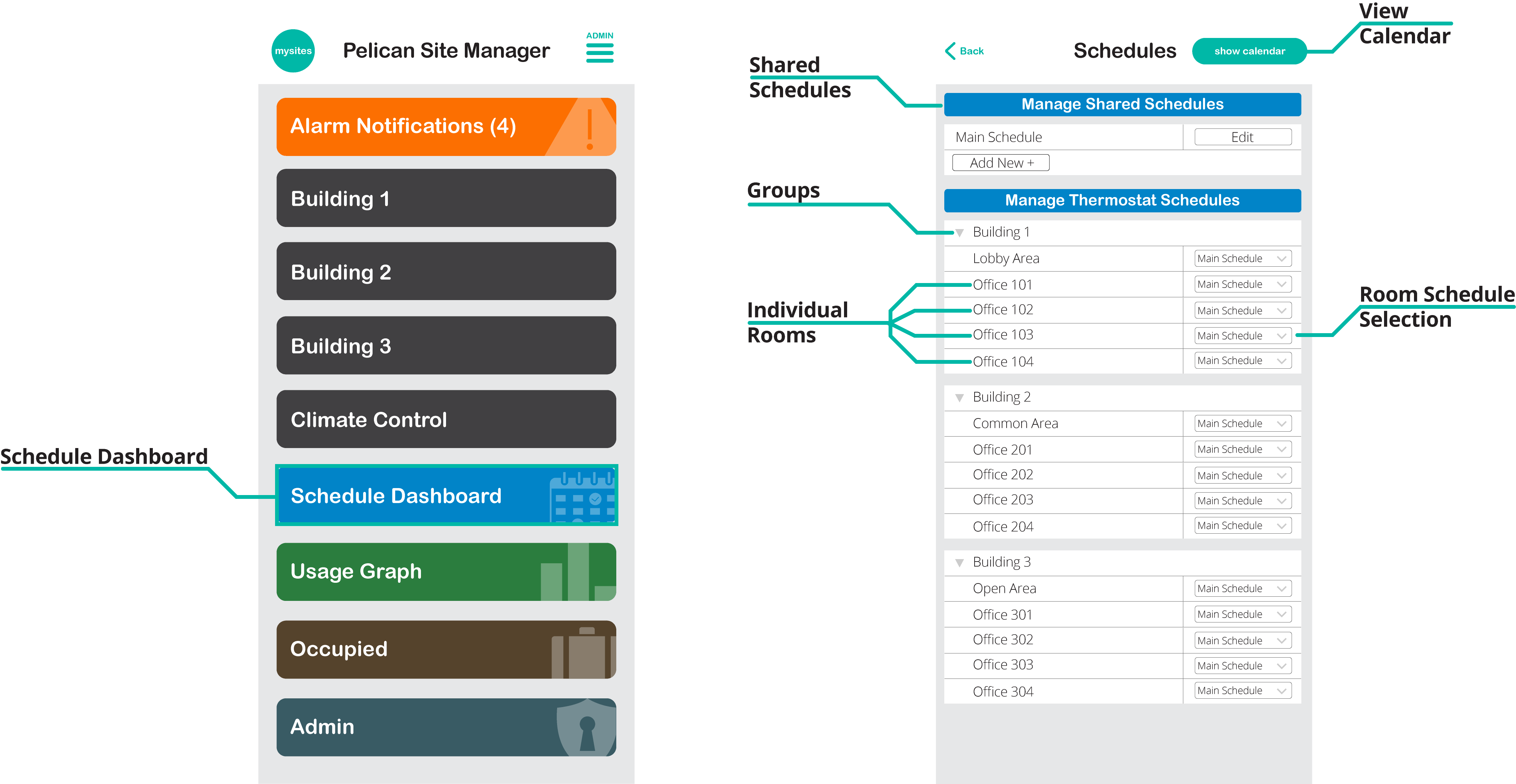 The Schedule Dashboard is segmented into three primary sections:
Provides an area where you can create "sharable" schedules that can then be added to multiple thermostats.
This section provides you with current thermostat schedules settings and lets you set the thermostat to follow its own custom schedule, follow a shared schedules, or have no schedule at all.
This button, in the upper right hand corner, will open a calendar screen. This calendar lets you see your thermostat's normal schedules and provides the ability to set Special Event schedules to rooms.
Notification are only viewable if you have active notifications. Access a notification by selecting the orange button labeled Alarm Notifications on the Main Page of your app.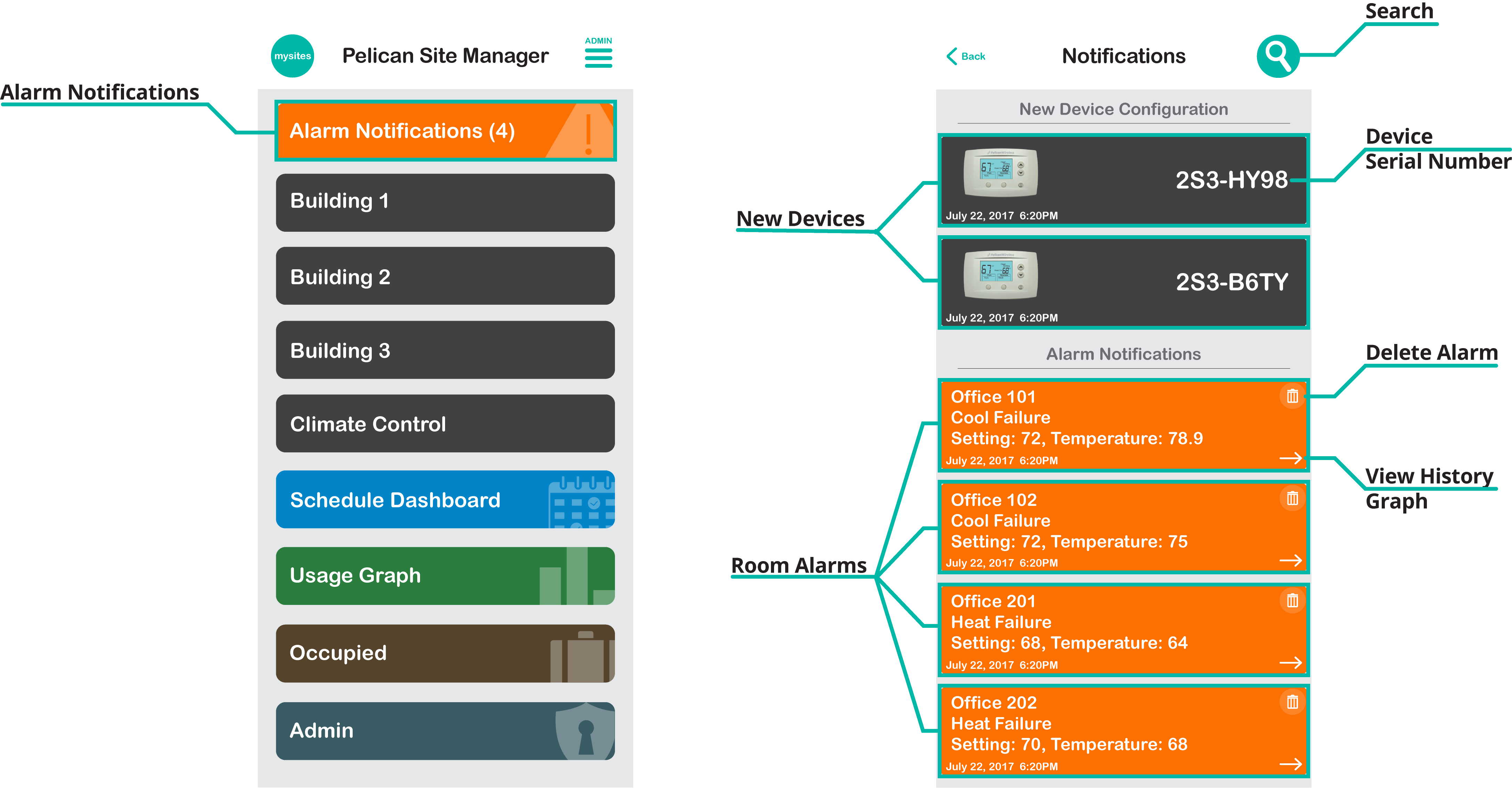 There are two types of notifications:
A new device notification is in Grey and identify when a new Pelican device that has been installed at your site and needs to be configured.
A climate issue notification is in bright orange and are designed to provide you with notices when a mechanical issues has been detected by your Pelican solution. These notifications are designed to help you proactively solve a climate related issue that might get worse over time.
These notifications are never an indication of a problem with your Pelican Solution. They are simply used to identify potential HVAC related mechanical problems.
The Admin menu is only viewable if you have Admin access. This area is where the administrative configurations are set for your Pelican App and Pelican Devices. The Admin Menu can be accessed by selecting the Admin icon in the upper right hand corner of the Main Page or by selecting the dark blue button labeled Admin at the bottom of the Main Page.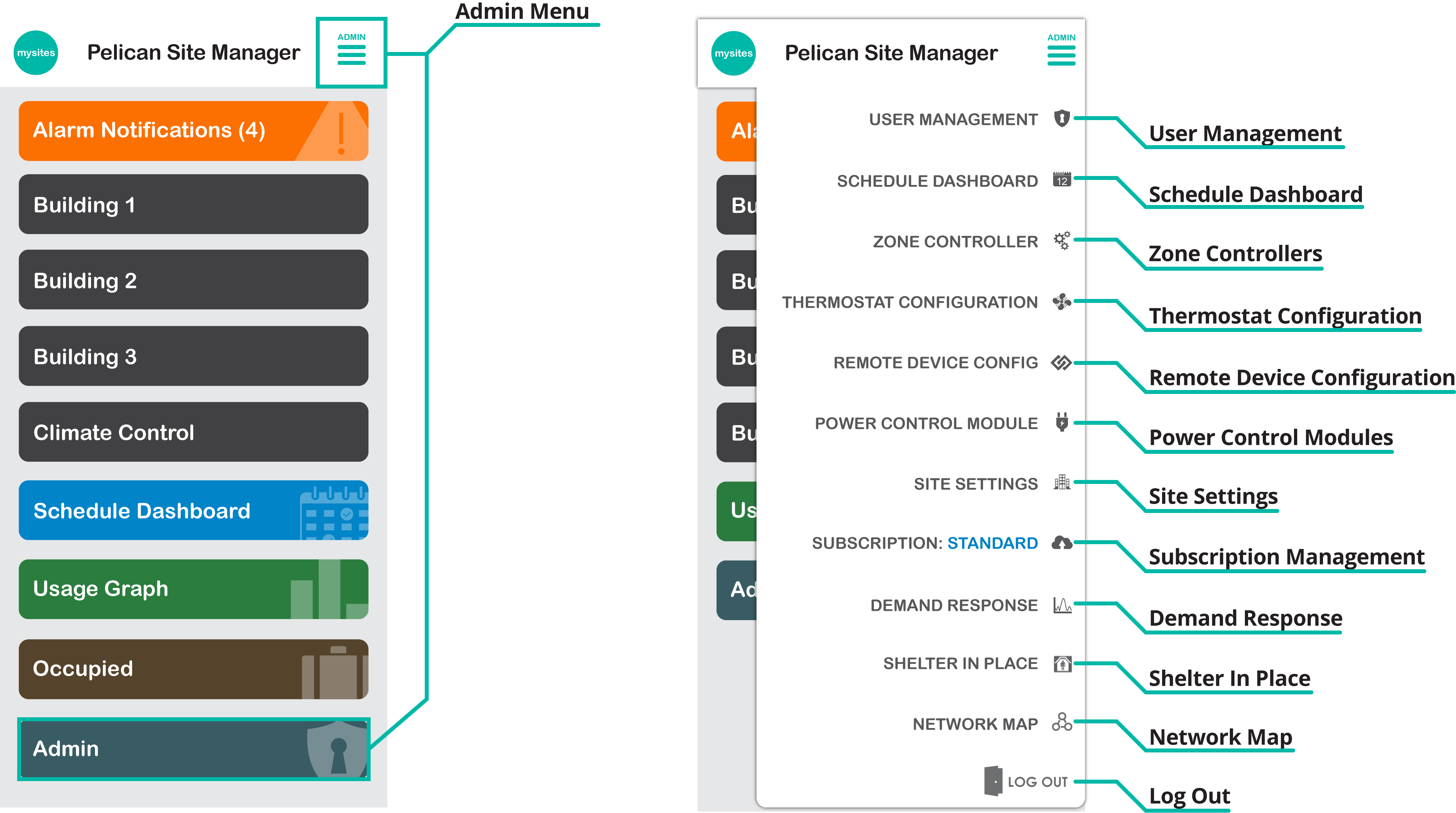 Usage Graph show historical cooling and heating run-time information and can also display calculated energy consumption and electric cost. Usage Graphs are accessed by selecting the green button labeled Usage Graphs on the Main Page of your app.